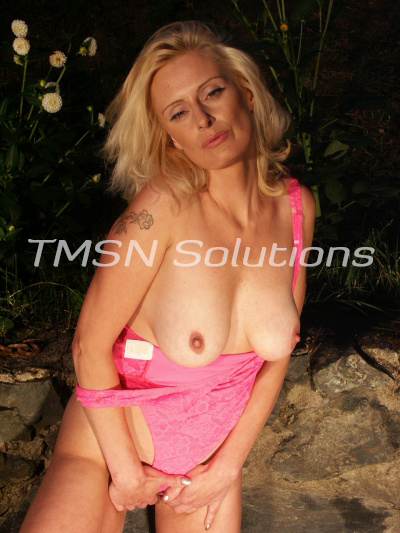 Lori  844 332 2639 x 352
I felt hands over my eyes and heard a deep husky voice "guess who?'  I didn't answer right away and then felt a stiff dick pressing on my ass.  I wiggled around to look at this joker.  I smiled; it was the guest of honor.  I was at a welcome home party for a friend's son.
We had so much fun before he went away.  Started when they moved next door many years ago.  Our first time was when he was barely 18.  I loved molding him into the fucker I wanted.  
He leaned over and whispered into my ear how he had been looking forward to seeing me and had I saved any pussy for him.  With a smile, I assured him there was plenty.  He took my hand and pulled it over his hardening dick.  What I enjoyed about fucking him was his dirty mouth when we fucked.  We have a date later tonight he said to me as turned toward the party.
I met him outside by the fire; we had always loved outside.  He came over and wrapped his arms around me.  I felt his hands go to the hem of my blouse pulling it over my head.  His mouth went to my nipples.  He moaned something about needing Mama's milk.  Somehow he took his shirt off and was working on his pants.  He held me back a bit and looked at me; then down to his stiff dick.  He placed his hands on my shoulders and pressured me downward.  I wrapped my wet mouth around his throbbing dick and sucked.  He said he wasn't going to cum like that and pulled me to my feet.  He finished pulling my clothes off and sat me on a nearby stool.  He mentioned he wanted to lick my pussy and went for it.  His fingers leading the way for his mouth and tongue.  His nasty talking kicked in as he told me how good my pussy juice tasted and he was going to pump it dry.  He pulled me from the stool; turned me around; and entered me doggy style.  His hands were all over my ass cheeks and hips as he told me how he loved fucking me; how good my ass still looked; and how deep he was going to fuck me over and over.
Lori  844 332 2639 x 352