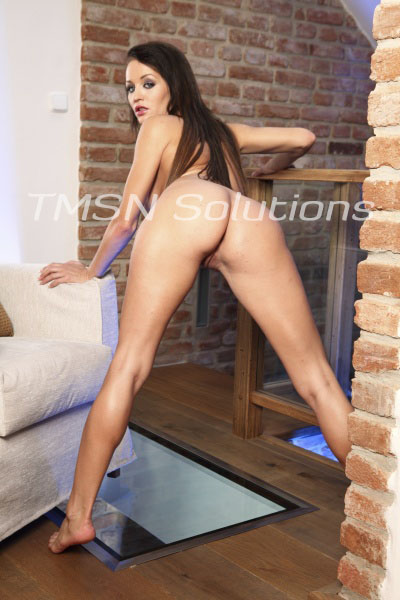 Sinful MILF Serinda 844-33-CANDY (844-332-2639), ext. 394
It only took a moment. A split second in time for me to concoct my devious little plan. The moment my eyes saw your young sexy body I knew I had to do devious things to gain the upper hand and make you mine! It was just so simple, allow me to explain.
The plan began with me in my sexy little mini skirt. My tight white silk blouse with that plunging neckline. I didn't need or bother even wearing a bra. I knew you'd be hypnotized the moment your eyes were captured by my very hard nipples standing erect in that see-through blouse. I figured you'd probably not even notice my fishnet black stockings or the cum fuck me pumps but I wanted to wear them, they feel so amazing!
I'd create a little scene. A flat tire in front of your house perhaps. I'd feign to be helpless and need to come knocking on your door. Like a good neighbor, you'd be helpless to resist assisting me. The scent of my Japanese cherry blossom perfume would fill your nose and my beautiful blue eyes would overcome all your senses.
I'd ask to come inside to call for help. You being the young, strong man that you are you'd be eager to let me in and help. I'd then make sure you knew I saw you checking out my sexy little ass as I brought you outside and bent over exposing my sexy little MILF ass feigning to show you my flat tire. You'd play shocked and dumb but I wouldn't let you get away with it. No, I'd use it and you to my advantage!
I'd take you back inside the house so no one could hear me speaking loudly about how closely you were checking out my hot MILF ass and not my flat tire. You'd be so smitten and embarrassed you'd eagerly agree. Then I'd have you, right where I want you. I'd grab that young cock that is bulging out of those pants into the palm of my hand. I'd force you down to your knees and make you pay. You'd pay with your mouth and tongue. I'd not leave until you paid me for that peek with licking up every last drop. Perhaps if you were very good, I'd let you have more.
The moral is that resisting me is useless. I am a MILF who always gets what she wants and craves.
Serinda
844-33-CANDY
(844-332-2639)
ext 394
http://nawtytwistedphonesex.com