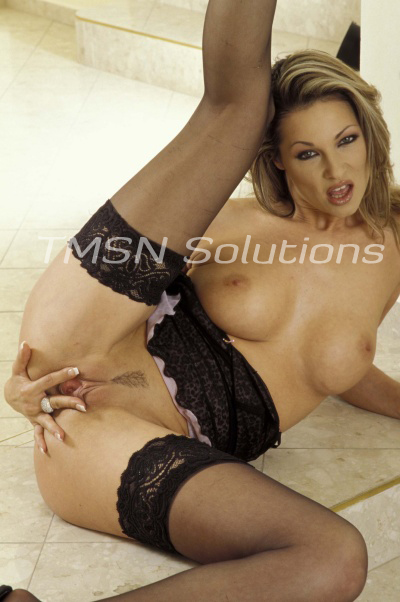 He wasn't sure what to expect when I blindfolded him. He agreed to complete sensual domination and tease and denial phone sex and I was just the mistress to give it to him.  I decided to make him wait a while and wonder what might be happening to him. I reached in my lingerie drawer of goodies and picked out to pairs of silk, black panties and proceeded to tie his hands to the bed post.
"Wait a minute, what are you doing?" he asked, suddenly sounding nervous.
"Hush. I promise this will only hurt a little bit." I said, pulling each pantie even tighter. Â I then used my tongue to lick him all around his stiffening cock, but I didn't put my mouth on his cock just yet. Â He bit his lip hard as I grabbed the burning candle on the dresser and held it above his chest.
"Please, Mistress Anna, my cock is so stiff and hard. Please fuck and suck me." He begged. What he didn't realize was that his cock was going to remain stiff a very long time and as I dripped the hot wax down his chest and around his balls he moaned in pain and ecstasy. I hadn't even decided if he was going to be allowed to cum yet or not. Â Are you in the need for a little orgasm denial? Call me.
Anna
1-866-514-4715
https://hotmilfphonesex.com/anna.html
http://www.sinfullysexyphonesex.com/anna.html