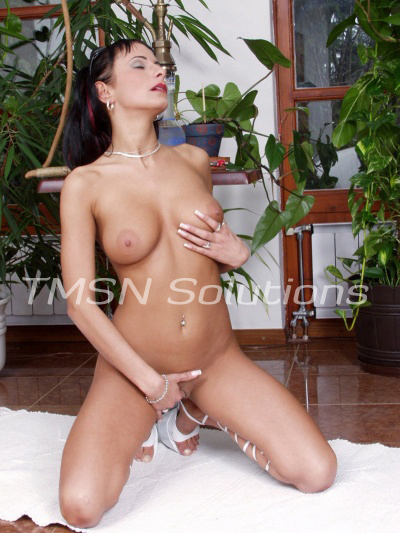 Miss Parts 1-3? It all begins HERE.
It felt SO fucking good. I moaned as I looked over at my husband, my excitement shooting even higher as I realized he could see everything that Brandon was doing to me. This cuckold phone sex was amazing and we couldn't get enough!
I gasped as I felt a couple of Brandon's clever fingers deftly push their way between the dripping folds of my tight pussy. Another hand reached up to find one of my throbbing nipples, rolling the aching bud between his fingers.
My body felt like it was on fire! I writhed on the bed, drowning in multiple sensations as Brandon played my body like a finely-tuned instrument. The need was growing so intense that it was almost unbearable.
Gabriel watched through half-closed eyes as he jerked his nearly purple cock in long, hard strokes. I could tell that he was close. Omg, so was I.
Brandon suddenly stopped and flipped me over onto my hands and knees, making sure that we were positioned so that Gabriel could see whatever we were about to do next.
Pushing my firm ass high as Brandon pushed my thighs wide apart, I realized that I was so fucking aroused that I didn't care which hole he chose first!
Baby, what I want … what I ~need~ is to be pounded with your meaty, rock-hard cock, hard enough to make me scream your name while my cucked husband watches us.
And I ~know~ you want it too. Call now!
Hot MILF Cuckoldress Claire
844-33-CANDY
(844-332-2639)
ext. 239