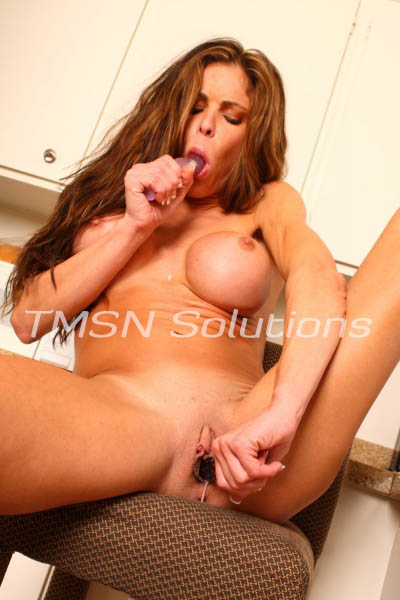 Spanking My Bitch Phone Sex with Mistress Skyler, is going to be brutal, if you do not know how to behave! That is a promise! Any insubordination, at all, will result in me using my dildos, instead of possibly letting you fuck my pussy. (As seen in the above picture) *Evil grins*
See that cream pie dripping out of me? THAT is from a long, hard, gorgeous cock.. one that I am proud to say that I have fucked. YOUR worthless cock, on the other hand REALLY Urkks me the fuck off! Which is why.. I am going to need you to get naked, grab your ankles, and shut the fuck up!
Tickling me with your tiny cock is more upsetting than amusing, so I think that the very least you can do…. if you want to fuck this pussy….. is take these spankings like a fucking man! Don't you reckon?
I wonder which paddle/belt/spoon/utensil/medieval torture device I will use when I am abusing you! The crime should definitely fit the punishment… *Giggles* Hopefully you do not catch me on a bad day, and make me draw out the riding crop, or my whip! *OUCH!*
I can think of hundreds of settings, and thousands of reasons, past and present, that you deserve such treatment! And, I bet you can too! Do you deserve the cold, hard hand of seduction to crack down on your ass?
I think you know you do! Mistress Skyler is always available to teach weak men, like you, a thing….. or two! Call me! Let's find out which beating switch I am going to use on you!
-Skyler
1-844-33-CANDY
1 (844-332-2639)
ext 259
https://phonesexcandy.com/skyler