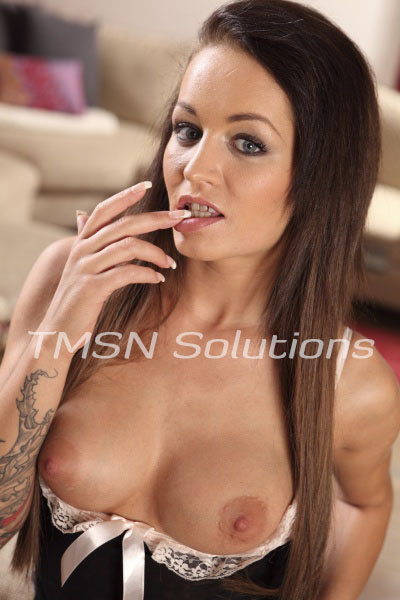 Sinful Serinda 844-33-CANDY (844-332-2639), ext. 394
I swear, you'd think after being married to me for as long as he has, my idiot husband would know my size. He gets me some inexpensive lingerie that is way too big so he can get a cheap thrill in while he's around. He probably got the idea from seeing it on his secretary…. bastard. Well, off to the store I went, but I was determined to not let him get the first view.
I found a more "suitable" outfit for a woman of my stature (and size) and tried to find the dressing room. Well after Christmas, the entire store was packed and I couldn't find an empty room to try anything on. I found a young male clerk who looked to be there as holiday help and he was sweet and asked if he could help me to find an empty room to try on my new outfit. He was young and cute, looking quite innocent and lost. He stared at me, slack-jawed, having never seen a woman as sexy as me. He eyed me and my lingerie and I could see his wheels spinning. My MILF instincts kicked in.
He explained that there were no other rooms open and I asked him "Well, maybe you and I could find a more private room and you can help me with my zipper?" I bit my bottom lip and gave him "the look". You know what I mean. The look that melts young guys like butter in my hands. The look that makes them do anything I ask. Well, he caught on quick and led me to the employee break room.
We walked in, I locked the door and pushed him into a chair. He watched hungrily as I slowly stripped my clothes off. His eyes wandered over my body as I undressed – staring as I caressed my tits after removing my bra, rubbing them longingly as he stared. Then my pants and panties, massaging my pussy, feeling the fluids flowing to my groin. "Would you hand me that, sweetie?" I asked, motioning to my new outfit as I rubbed. He handed me the matching bra and panties set and I slipped them on. His eyes never left my body.
After dressing, I spun around and asked for his opinion. "Well, how do I look?" He nodded in approval, trying to hide his bulging hard-on in his pants. "You look so hot.," he said lustfully. I smiled and made my way over to him. I straddled his lap, forcing him to move his hand from in front of his pants. I ground my hips onto him, rubbing his firm young cock against my aching pussy. I bent down to him and gave him a gentle kiss on the cheek. "I look hot? What would you do to me if you had me all to yourself?" I gave him another peck on his other cheek. "Would you run your tongue and lips over every inch of my body, taste me, feel me?" He nodded as I whispered into his ear, nibbling playfully at his earlobe. "I can feel your cock twitching against me, you want to be inside of me, don't you? I'm the sexiest most beautiful woman you've ever seen, aren't I? You'd do anything just to have a taste of me, yes?" He nodded eagerly, a deep wanting look in his eyes. "I'd say we have a winner, then. Would you mind handling the exchange for me?" I smirked, got up, got dressed in my new bra and panties and made my way home, leaving him with what I can only assume was a case of full-on blue balls.
Serinda
844-33-CANDY
(844-332-2639)
ext 394
http://nawtytwistedphonesex.com