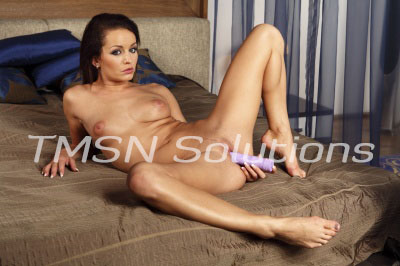 Sinful Serinda 844-33-CANDY (844-332-2639), ext. 394
After the new counter boy finished my back, I rolled over for him to start on the front. He got a good view of my naked body now, my nipples getting hard as they felt the cool air in the room off of the tanning bed. "Front please." I playfully demanded.
I could feel his eyes taking in the site before him. Starting at my toes and up again to a full view of my shaven pussy. Then up across my flat tummy and up to my tits. "Feet first sweetie" I teased, wiggling my toes.
He got some tan lotion and started at my the tops of my feet, rubbing up to the front of my calves to my thighs. He stammered as he got to my smooth pussy, not sure what to do. I looked down at him. "What's the matter? Need an invitation? Ok, let me see if this helps." I reached down with my hand, unzipping the front of his shorts and pulling out his young, hard cock. Yeah, he was so hard for me. I can't resist a young hard cock.
Slowly I began stroking that young, and very hard cock. I gave him an innocent blink of my blue eyes. "That better?" He nodded and rubbed the lotion around my now even wetter pussy. I gave him a soft moan and bit my lips. "Good boy, don't miss a spot."
He moved his hands up my tummy, I could feel him trembling in my hand. "Such a naughty boy, aren't you? You better make sure you have me all covered with lotion or else I'll have to give you a spanking if I burn." He nodded, gasping as I gave his cock a gentle squeeze.
Soon his hands were up to my luscious tits and I felt his young cock get even harder under my fingers. "Oh my, someone likes this, don't they?" He nodded and shuddered as I stroked faster. He massaged the tan lotion into my chest, circling and gently squeezing my tits with his firm young hands. I gave him a soft moan as it felt so good.
Finally, he finished my arms and shoulders but I wasn't done yet. "Think you missed a spot, sweetie. But looks like we're out of lotion." With that I stroked his young hard cock quickly, twirling the palm of my hand over his swollen cock head.
He breathed faster and it didn't take long for him to shoot his load of cum all over my rock hard nipples and tits. I dutifully rubbed his cum into my tits, getting some of it on my fingers and licking it off. "Good boy. Can you fetch me a towel, please?"
Serinda
844-33-CANDY
(844-332-2639)
ext 394
https://phonesexcandy.com/serinda