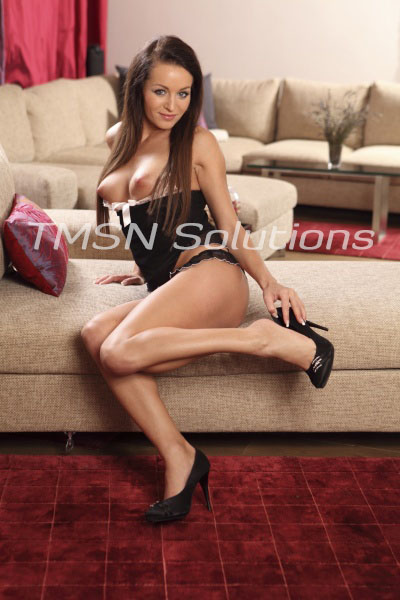 Sinful Serinda 844-33-CANDY (844-332-2639), ext. 394
I can't really say I'm shocked with how many of you have been calling me wanting to be my hot young stepson. I think I hit a special spot with you naughty boys. 😉 It's only natural when you're addicted to MILFs like you are. It's natural to have these feelings and totally healthy. But my stepson will need proper lessons on pleasing Stepmom properly.
Now, I know how to please a man, you don't have anything to worry about. I'm experienced, talented, seductive, alluring, and have no issues with making you cum oh so hard for me. But you need to learn how to properly touch, caress, kiss, lick, and please this stepmommy's pussy. So, stepmommy is going to take off her panties and spread her legs for you and instruct you on what you need to do to make her nice and wet for that delicious young cock. And yes, that part will come later, so be patient.
Now, get on your knees and I'm going to wrap my legs over your shoulders because I want you to get a good view of stepmommy's pussy. Do you like being reminded that this pussy belongs to your stepmom? Sounds so naughty, doesn't it? If you get close you can see I'm already starting to get wet, yes? That happens when stepmommy gets nice and turned on – I'm just thinking about all the taboo fun we're going to have, but shhhh, don't tell your father.
You sure are getting talented at pleasing your stepmom.
So, to start, reach out with your hand and gently rub your fingers up and down me. Does it feel nice? Yes, it's velvety soft, isn't it? If you rub around some you'll see that I have more wetness inside of me and you can spread it around. Yeah, that's nice, isn't it? It feels wonderful, too. Makes me all tingly for you, but let's not get all carried away.  You sure are getting talented at pleasing your stepmom.  Keeping that up will be sure to make mommy cum for you.  And if you can do that, then your loving stepmom has a special treat just for you.
Serinda
844-33-CANDY
(844-332-2639)
ext 394