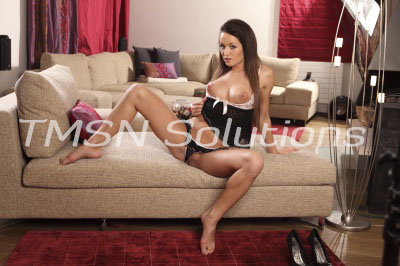 Sinful Serinda 844-33-CANDY (844-332-2639), ext. 394
I'd been stringing him along for a few months, waiting for the time to pounce. Finally, he had let slip too much information and I had him – I had names, I had colleagues, I had family names, and I had all the incriminating texts he had sent me. The panic in his messages when I told him what I was going to do was evident and he begged me not to, said he'd do anything! "Then my little pet piggy should take Miss shopping." He must have broken a few laws making sure he'd meet me on time.
Once I saw him, I commanded him to follow. First stop was something simple, just some new panties and stockings, but I was sure to grab a set of each for him to try on. I demanded him to follow me into the dressing room so I could get an honest opinion of what I wanted. "What do you think of these? I don't normally go for pink and frilly, but something about these really grabbed me. "Tell me what you think…" I had no intention of wearing these. He voiced his approval and smiled nervously. "Great, try them on, let's see how they fit." I sat down, crossing one leg over the other. "Get to it, chop chop" I said, clapping my hands at him. He was apparently not taking me seriously, so I took the cute look off my face. "Put them on." He disrobed, attempting to keep his pathetic dick covered in embarrassment. As he pulled the panties over himself I took my phone out and started taking pictures. "Mmmm, those look cute. You look very pretty in those." I handed him a pair of stockings. "Here, put these on, let's complete the look." I continued to photograph as he dressed. "Beautiful – let's wear these around for a while. Put your clothes back on, let's shop some more, piggy." He put his pants on over his new black stockings and panties and we left the dressing room to continue my shopping spree.
I needed some shoes to complete my ensemble. I found us a nice matching pair of heels for him to try on. I made him try his heels on right in the middle of the other shoppers. Most paid no attention, others giggled quietly. "Do those feel good? How do they feel with the stockings?" He cleared his throat and blushed and quietly whispered that they felt great. Not wanting to see him walk around the store in heels, I had him switch back to his shoes and follow me.
From here, it was time for full lingerie. I like feeling sexy, but I like walking this piggy around more than that. I found us matching baby doll style nighties – black, short and partially see through. "I don't think this will quite match your panties. Should we try on a new pair?" "Yes Miss" he replied without a second thought. He removed his pants like a good pet and took off the stockings and panties. I tossed him a matching black lace pair and he slid them on over his legs. He replaced the stockings and I tossed him the baby doll. He removed his shirt and slide on the nightie and appeared to be enjoying himself as our potential tab ran higher. I think now that he understood our arrangement we were good to proceed. "Miss wants her pet to know that he has done a wonderful job today. Miss's pet will be ready to respond to Miss's every command and whim at a moment's notice. Miss's pet will be ready to lavish Miss with whatever she desires, no matter the cost. Is that understood?" He closed his eyes and nodded. "Yes, Miss." I stood up, gave him a smile and lovingly ran my hand over his cheek. "Good, my little piggy. Now it's time to go pay."
I just love a good pet piggy. Let's go shopping together!
Serinda
844-33-CANDY
(844-332-2639)
ext 394
http://www.sinfullysexyphonesex.com/serinda/