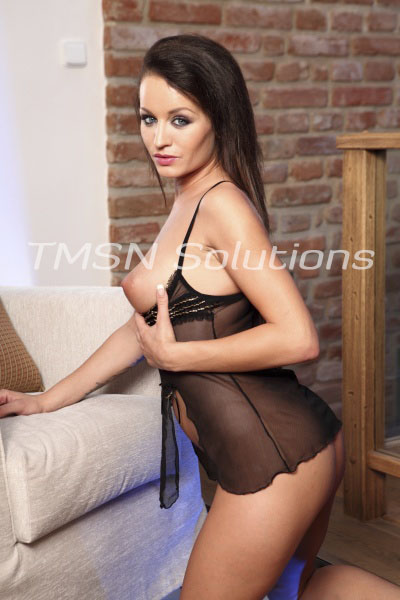 Sinful Serinda 844-33-CANDY (844-332-2639), ext. 394
Of course, after blackmailing my stepson into being my personal boy toy, he'd have to find a way to get stepmommy back. Little does he know, he's falling right into my trap.
I'd carelessly leave the bathroom door open a crack while I'm taking a shower maybe. This would be, of course, when it's just him and me at home alone. He'd wander by and hear the shower going, maybe also hear some soft gentle moans and whimpers to catch his attention. He'd gently push the door open and catch his darling stepmommy fingering herself in the shower.
His jaw would drop as he stares at me rubbing my pussy and pinching my nipples. His young cock would get so hard for me so fast. He likes to pretend that he's not turned on by the thought of fucking his stepmommy, but I know better. He couldn't help but pull out his phone and take some video to save for some fun later. I like the thought of me being his personal little porno movie.
Eventually, I'd catch him and look him straight in the eyes. My hands wouldn't move from my body at all, though. I'd stare at him as I continue to rub and tease my pussy and squeeze my tits. Finally, when I can tell he's ready to crack from the pressure, I'd ask him to join me in the shower.
He'd cautiously walk in and take his clothes off. His young cock would be so hard for me, wanting me to feel him. Aching to be inside me. He'd climb into the shower and wrap his arms around me. His young body rubbing against mine, soap making our bodies slick as we run our hands over each other.
Now he's putty in my hands. He'd do anything for his stepmommy. He'd do anything to get his young eager cock in his stepmommy's pussy. That stiff young cock belongs to me now, and it's mine to do with as I please. Would you like to be my naughty stepson next? Tease you to the point of aching for me so bad that you'd do anything? I'd like that, too. So don't keep me waiting.
Serinda
844-33-CANDY
(844-332-2639)
ext 394