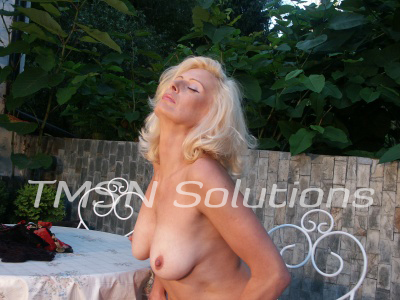 LORI
844 332 2639 x 352
I look around at some of my friends and wonder what happened to them?  I hear women talking about not caring if they never have sex again. WTF? Sometimes I can feel the sunshine on my face and remember a time on the beach fucking in the dunes and get so turned on I have to grab my dildo.  I can be standing in line at a checkout and smell a man and the juices start to flow.  I love to fuck.
Let's Masturbate Together
Even though I have some age on me now, I still love the feel of a man.  Thinking about his mouth on my nipples makes them hard.  Thinking about his mouth wrapping around and sucking makes me ready to put my hands inside my panties and stroke my pussy lips.  I love to masturbate.  The feel of my fingers spreading open my pussy lips, teasing my already hard clit, bring me to an orgasm.  Bring whatever kink you may have to the phone and let's get it on. 
Young Guys Seem So Sexy
It used to be an older woman was a disgrace if she was seen with a younger man, but things have changed.  What mature men bring to a relationship is great but a young man brings force.  He can fuck for hours and hours.  They seem to think they have something to prove.  The young ones are here just for the sucking and fucking.  I like that.  They make you bring more to the table too.
Sexier Dressing
Not just tighter jeans or shorter hems, it's especially sexier lingerie.  Showing more skin is something young guys love.  The mature man would be happy if you just went naked all the time so he wouldn't have to do anything to get to what he wanted.
LORI
844 332 2639 x 352
www.sinfullysexyphonesex.com/lori/