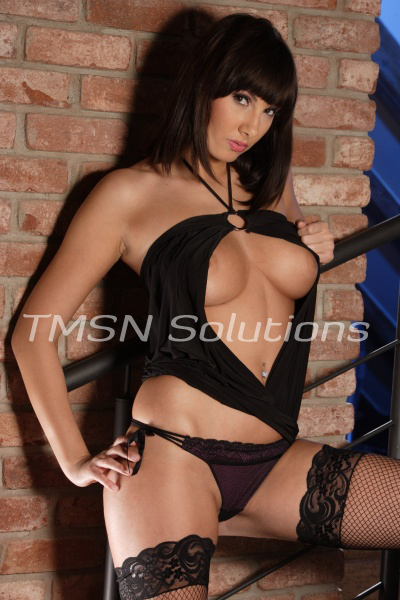 *LUCY*  844-332-2639 xxx- 221
From time to time I think I want a baby and my hubby simply will not agree. I've tried and tried with my husband but he's older than me and refuses. So, if that's what he wants I'll have to find another way to get it. I have a new, hot neighbor I've been eyeing lately. We had been flirting in passing for months but it was time for me to coerce something else out of him…
I showed up at his door, dressed in a short skirt and a very tight top. It really was too small. I could not button up the top at without it popping open. My purple bra could be seen bursting out with my full breasts. I had my hair up and my glasses on. I wasn't sure if he recognized me. I introduced myself as a representative at a local home security company. I was there to give him a free estimate of what it would cost to make his home safe. He very courteously let me in.
I starting showing him some of my pamphlets. He studiously listened to my presentation. I asked him for a glass of water. He apologized for not offering sooner. When he returned, I was busy kneeling on the floor, gathering some papers I had (purposely) dropped. He could not have missed the view of my very bare ass and my wet pussy. I heard him set the glass down on the coffee table behind me. I was mumbling something about having been so clumsy. He bent down to help me. 
It wasn't long before his hand was helping itself to my welcome pussy. I leaned back into his hand and let his fingers go deep. I'm sure I came immediately. His other hand wandered around front and pulled out one of my breasts, gripping my hard nipple. I just kept riding his fingers until I came again. He turned me around and pulled my other breast out so he could grab both at the same time. As he started to lick and suck my nipples, I let his cock free from his zipper and started to stroke it. He suggested we move to his bedroom.
He laid me on the bed and undressed me. Then he stripped and got on top. Right away he began to reach for a condom in his drawer. I told him I wanted to feel him inside of me. He hesitated and said, "Okay…." I told him he could pull out but knew once he was inside me I would get what I needed. He slid his cock inside of me and started to make the slow pump. He kept asking if I was sure he shouldn't use a condom. His face was panicked as he was getting close and I could tell he was having trouble stopping.
Finally, I held his face firmly in my hands and looked deep into his eyes, saying, "I want you to get me pregnant. Go deep and give me what my husband can't." After that, he just let loose, fucking me hard and fast until he finally came inside me. I knew he was internally freaking out but also so proud he gave me what another man couldn't.
I don't know yet if I'm pregnant, but it's is fun trying! Especially with someone as eager as my sweet, young neighbor.
Lucy xx
Come find me at – 844-332-2639 xxx- 221
http://sinfullysexyphonesex.com/lucy/
http://phonesexcandy.com/lucy/
Read these my lovers
http://hotmilfphonesex.com/author/lucy/
http://phonesexmamas.com/author/lucy/
http://sissyphonefantasy.com/author/lucy/
http://phonesexcandy.com/author/lucy/
http://sinfullysexyphonesex.com/author/lucy/
http://tlcphonesex.com/author/lucy/